Ross Racing Pistons: Product Support
From product installation sheet downloads and frequently asked questions, to shipping policies and tech support issues, it can all be found here on our product support page.  If you are unable to find an answer to your question, feel free to call us direct at (310) 536-0100.  Answers to many of the common questions we receive can be found on our FAQ page.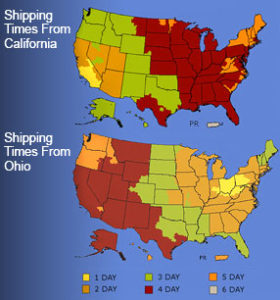 THE MINIMUM NUMBER OF CUSTOM PISTONS MADE AT ONE TIME IS FOUR. THERE ARE NO EXCEPTIONS! Custom piston prices do not include pins. A complete selection of optional pins can be found here. When ordering replacement custom pistons, please give our job card number which is engraved on the bottom of the piston in the area which is machined for crankshaft counterweight clearance. This number is also on the ROSS invoice, the end of the piston box, and the computer generated information which is inside the box with your new pistons. If you do not have the old job card number, we will be happy to work from a sample piston, however please add one week to our custom manufacturing time. When ordering replacement pistons, you must specify the cylinder numbers in which they will be used.
We offer a special (4 Day Production Rush)* service on custom pistons.  Custom pistons can now be ready to ship in as few as four days.  To expedite the production of your pistons, please mention rush shipping to your sales associate when placing your order.
In order to qualify for special RUSH service the custom piston order must meet the following requirements:
All RUSH orders must be picked up at Will Call or shipped UPS (no post office, FedEx, Truck or airfreight carriers).
All RUSH orders must be placed by 3:00pm Pacific Time. For orders placed after this time add one extra day to service.
RUSH orders are not subject to cancellations after order is one hour old.
RUSH orders are not subject to changes of any type, including technical or clerical after the order has reached the one hour marker.
An additional charge of $300.00 net will be made on all FOUR DAY RUSH jobs.
NOT AVAILABLE WITH THIS SERVICE: Piston Coatings, Pistons Per Sample or Pistons that require special new programs (ie. complicated domes or dishes that we have not done before, or require new tooling)
*  This does not include the time it takes to ship the item to you. Standard rates for shipping still apply.
ROSS NOW SHIPS STOCKING PISTONS UPS GROUND FROM OHIO AND CALIFORNIA FOR QUICK DELIVERY AND LOW FREIGHT COSTS.
Orders must be placed by 12:00pm Pacific, 3:00pm Eastern, 2:00pm Central, and 1:00pm Mountain Standard Time. All shipments outside the 48 continental states will be shipped from our California factory. These maps are for stocking pistons only. All custom pistons are shipped from our California factory. UPS red will assure next day delivery to any point in the continental states at an additional charge. Saturday delivery available only in limited areas.
Ross Racing Pistons are distributed nationwide, through an extensive warehouse distributor and dealer network and we have proudly shipped our products to over 115 countries. We maintains complete selection of stocking pistons in our El Segundo, California factory and in our Ohio company owned warehouse. This ensures that our authorized dealers and warehouses enjoy quick delivery without the additional cost of airfreight.
Due to the intended use of the products listed, that being competitive racing, they are sold without any expressed warranty or any implied warranty of merchant-ability or fitness for the intended purpose. The parts listed are intended for "off highway" use and if installed could adversely affect the vehicle manufacturer's warranty coverage.
ROSS Racing Pistons are not legal in the State of California on pollution controlled motor vehicles. The Federal government and certain states have various laws that may prohibit the removal and/or modification of any part of the emission system on street driven vehicles. Vehicles not used on public streets or highways are generally exempt from emission regulations, however check your current Federal and State laws.
Custom pistons are not returnable for refund or credit regardless of circumstances, unless the customer submitted a written purchase order and pistons do not meet the requirements of the written purchase order. Do not attempt to install ROSS Racing Pistons before reading the instructions. ROSS Racing Pistons reserves the right to make changes in design, materials and specifications, or to make product changes without incurring liability or obligation with respect to similar products previously manufactured.
At least 20% of the total cost will be charged to cover handling fees on all returned stocking parts. All returns must have prior permission and a Return Goods Authorization (RGA) number must be clearly printed on the outside of the box. Freight collect shipments will be refused. Care has been taken to insure the correctness of these web pages; however ROSS Racing Pistons will not be responsible for any errors. All information is current as of February 15, 2009.