Ross Racing Pistons Coating Options
EPC102: HARD SKIRT COATING



Includes a Teflon Seal and a Thermal Barrier Top! By combining our EPC100 Black Anodized Coating and our EPC108 Ceramic Thermal Barrier Top, your pistons will have the ultimate top and skirt protection.  These two processes combined are ideal for hard running turbo charged engines!

EPC104: CERAMIC TOP & SKIRT LUBE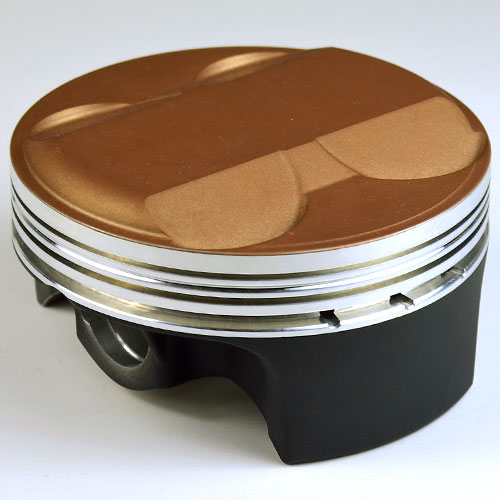 By combining our EPC107 Skirt Lube and our EPC108 ceramic Thermal Barrier Coatings to the pistons, the tops will be well protected and the skirts become very slick for minimum drag and more horse power!  Highly recommended in applications where there is minimal piston to cylinder wall friction and/or in applications where keeping the combustion heat in the combustion chamber is the ultimate goal!
EPC108: CERAMIC THERMAL BARRIER Highly Recommended for Turbo Charged Applications! 
Applied to the top of the piston only, this coating keeps more heat in the combustion chamber and away from the piston.  This promotes even thermal expansion and helps to extend the life of the piston.  Effective with combustion chamber temperatures up to 2100˚ Fahrenheit. 
What Are The Benefits Of Coating Your Pistons?
Piston coatings are a must for any engine build. If you are buying new pistons or you are going to be far enough in the engine to pull them out and have them coated then DO IT. The benefits of the coating, especially in performance applications, are a must have for protection.
Coating the tops of pistons protects and increases the life of the rings on the piston which reduces radial tension loss. Not a lot of people realize this, but the coating helps shield the rings from heat caused by improper burn of the fuel which creates hot spots.  Heat kills performance so we want to get rid of it as fast as we can. Coating the tops of pistons helps with scavenging heat out of the motor. The thermal barrier coating on top of the piston helps to push the heat out of the motor.
Overall Thermal Barrier protection
Reduction in overall operating temperatures
Increases component life by reducing friction and heat
Perfect for High horsepower applications such as turbo's & superchargers
Protection against galling and other damage on metal to metal contact
Increases in performance
Protection from stressful environments such as racing
Protects Piston rings from Radial tension Loss
Protection against hot spots by increasing flame propagation
Helps to scavenge heat from the motor more quickly
Adding a coating to your pistons will extend our normal manufacturing time by about 4-5 working days.  The following coatings can ONLY be applied to New, Ross Custom Pistons, at the time they are manufactured:  EPC100, EPC100L, EPC100RG, EPC102, EPC103 & EPC103L.  All other coatings can be applied to our shelf-stock pistons.