Ross Racing Pistons
MOTORCYCLE PISTONS
Harley Davidson, Honda, Kawasaki, Suzuki & Yamaha.
We carry a complete line of In-Stock & Custom, Forged Aluminum Pistons. We combine light weight, high strength, precision machining and premium materials to build a piston you can depend on for high horsepower, torque and reliability.
CUSTOM MADE MOTORCYCLE PISTONS
No one piston design is correct for all applications. For this reason many ROSS FORGED pistons are custom made to suit the customer's requirements. Different types of use require different piston designs. Not only does the type of use, head style, induction system, fuel, and camshaft specifications affect the design features of a high performance piston, but different engine types have their own needs. Ross has a large selection of forgings and design programs to design and manufacture the proper pistons for your application.
ROSS can work from old sample pistons and sketches. ROSS can also supply rings, pins and pin locks for most pistons at the time of manufacture. We have very large selection of both dedicated and general use forgings. All ROSS pistons are forged from billet bar stock 2618-T61 Aluminum.
All Ross Custom Motorcycle Pistons Include The Following Feature At No Additional Cost:
CNC machined on the highest quality, most modern equipment: Okuma, Mori Seiki, Taki-sawa
Annular pin oiler grooves, which intersect the forced pin oilers
Lock removal indents
Forced pin oilers (two for each pin hole when the oil ring is .200 or closer to the pin hole)
Second land pressure reservoir (accumulator groove)
Machined side reliefs on full round forgings
Radius valve reliefs
Pin holes fitted at no extra cost
CNC diamond turned skirts (on Takisawa)
2618T-61 forged aluminum
IN STOCK MOTORCYCLE PISTONS
Most kits include piston, Ross ductile moly top ring, cast iron second, and stainless steel expander oil ring, piston pin, wire lox and instructions.  We also have Hasting Rings in most of our HD kits.
All Sets Include
Forced pin oilers with oil transfer grooves
Wire lox with lox removal indents
Balanced to+ or – 2.5 grams
Replacements available one at a time as needed with no premium charge (except Harley Davidson)
Valve pockets designed to work with most big valves and high lift cams on Hot Street designs
Improved skirt design allows Ross motorcycle pistons to work properly under intense heat and tremendous side loads without scuffing
Most pistons are designed to operate with tight skirt clearance for quiet operation and good oil control
Forged on mechanical presses from 2618 T-61 aluminum for maximum strength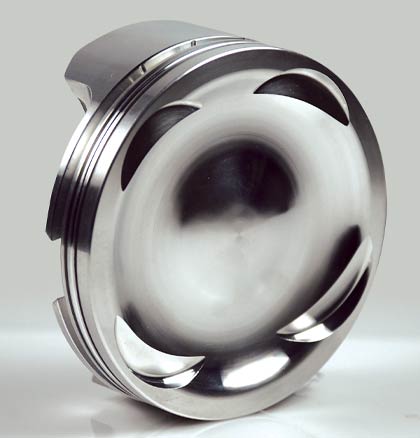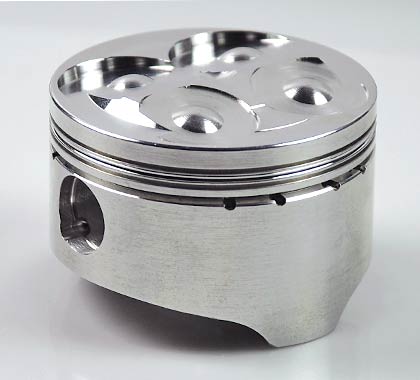 • Sportster: 1972-1985 (1000cc)
• Sportster: 1986-UP (Big Bore Kit for Evolution 883 – XLH Model)
• Sportster: 1988-UP (EVO 1200)
• Pan Head: 1948-1980 (74 ci Big Twin 1200)
• Shovel Head:  1948-1980 (74 ci Big Twin 1200)
• Shovel Head: 1978-1984 (80 ci Big Twin 1340)
• Evolution: 1984-UP (80 ci Big Twin 1340)
• EVO V Twin (Hot Street Design – Stock Bore Size)
• 95″ Twin Cam (Hot Street Design – Stock Bore Size)
• XR400: 1996-Up
• ES 400: 1998-Up
• XR250R: 1986-Up Off-Road
• XR250L: 1991-1996 Off-Road
• CBR 1100xx: Blackbird
• CBR 6200: F2 AND F3 FOUR CYLINDER 1991-1998
• KZ1000 (EXCEPT J MODEL)
• ZX 11 (1990-UP)
• Pro Mod Drag Racing: Heavy Nitrous
• GSXR 1100
• GSXR 1100W
• GSX 1300R HAYABUSA
• V-Max 1200
• 1250 FJ 1200
ALL ROSS MOTORCYCLE PISTONS ARE FORGED FROM 2618 BILLET BAR STOCK, HEAT TREATED & AGED TO A T61 (2618-T61) CONDITION.
2618-T61 is the material that is used when fatigue resistance and durability are of prime importance by all premium racing piston manufacturers. This material has less than 1% silicon particulate content. High silicon content pistons (forged from 4032) will not stand up to the most extreme stress placed on many racing pistons.  Another advantage of 2618-T61 over the high silicon pistons is the ability to keep its shape under extreme pressure and high RPM's. "Skirt Shrinking" is not a problem with Ross Racing Pistons.