Position: Sales & Customer Support of Automotive Technical Pistons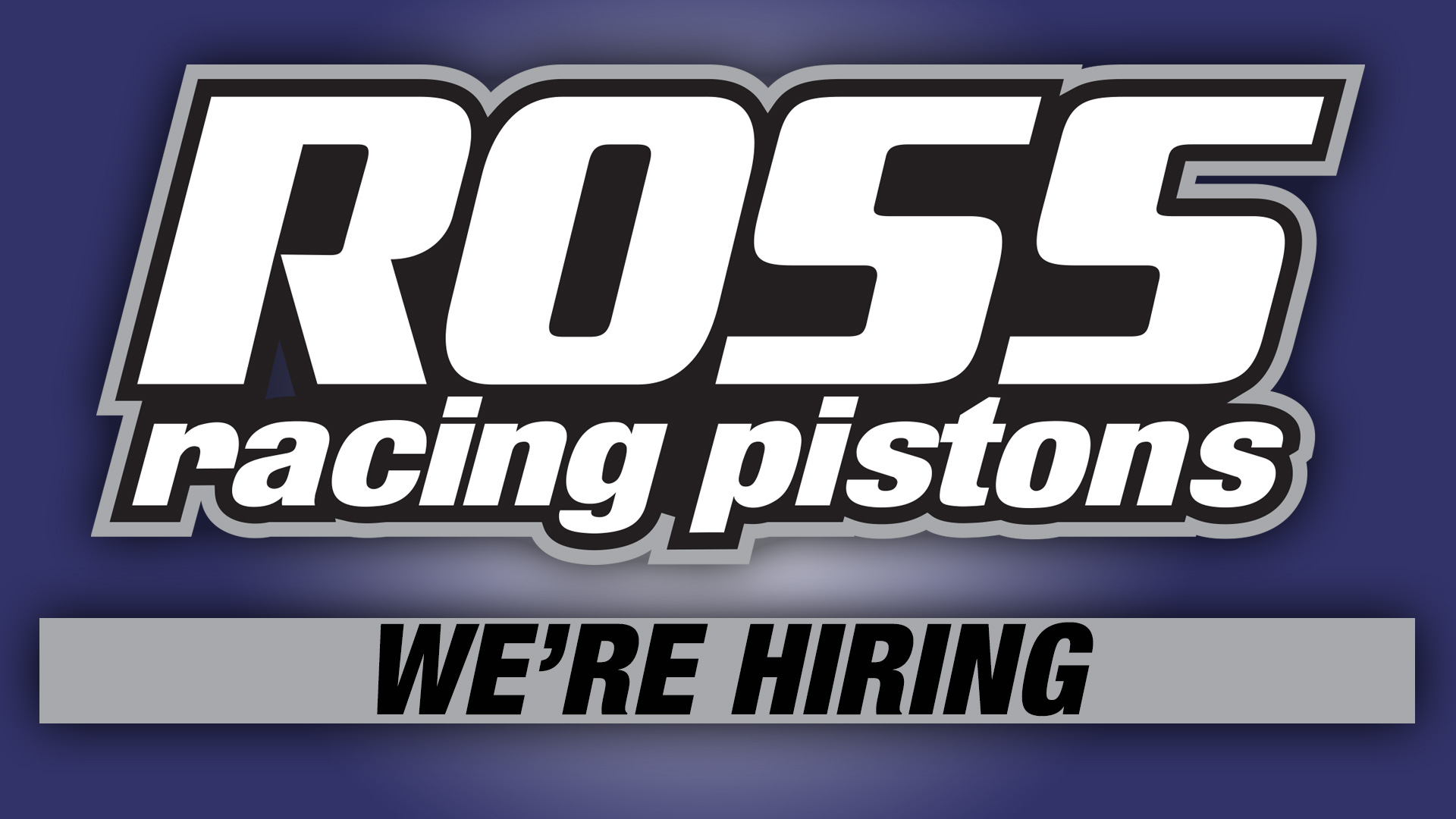 Ross Racing Pistons is looking for auto enthusiasts who are ready to work in a fast paced, team oriented environment. For over 40 years, Ross has been one of the leading piston manufacturers in the United States and we are looking for a knowledgeable automotive / racing enthusiast to join our team.
PRIMARY DAILY RESPONSIBILITIES: PHONE ORDERS & TECHNICAL ASSISTANCE
Candidate must have:
Extensive knowledge of a 4 stroke, internal combustion engine.
Exceptional communication skills to help customers determine which pistons are best for their application.
Self starter and able to work independently, efficiently and accurately.
Able to prioritize work load and manage multiple projects with competing priorities.
TO APPLY FOR THIS POSITION. PLEASE CHOOSE ONE OF THE FOLLOWING OPTIONS
ABOUT US
High Performance, Custom & Off The Shelf Piston Manufacturing, Since 1979
5 Star Rated By Customers  •  Trusted By Engine Builders & Racers Worldwide Since 1979
Here at Ross Racing Pistons, we manufacturer custom and off the shelf high-end forged aluminum racing pistons.  Since 1979, we have been at the forefront of piston technology, and for decades we've been one of the most trusted names in durability for high performance pistons! If you can race it, then we can make a piston for it!  Our products can be found across all forms of racing, including: Top Fuel, Drag, Circle Track, Off-Road, Diesel , Boat, Motorcycle, Land Speed Racing and more.
Ross Racing Pistons began production of high-end forged aluminum racing pistons in 1979. In an era where most manufacturing factories have been gobbled up by large multinational holding companies, Ken and Moe the two founders, who after 29 years, Moe Mills decided to retire and Ken Roble continues to work full time at ROSS and oversee the day to day operations of the company.
Over 40% of our work force has been with the company for over 10 years, with several Ross Team Leaders having been with the company for over 20 years.  Having had the same management team in force longer than any other company in the racing piston business, gives us the advantages of stability, experience and organization.  These three facets of the firm contribute immensely to our ability to design and manufacture the best pistons available at a competitive price.
Utilizing the newest, most stable and most accurate (Okuma, Mori Seiki, Takisawa, Fadal) CNC equipment available for manufacturing, along with a very wide range of forgings, Ross Racing Pistons maintains exacting tolerances on pistons, for practically all engines.
Since 1979 our mission has remained one in the same. Provide customers with a superior product along with a (one-on-one) level of customer service we would expect if we were ourselves were making the purchase. As lifelong racers ourselves, we decided long ago that building one on one relationships with our customers, would allow us to better connect with them and understand their overall needs.
First and foremost, Ross Pistons is a family owned and operated company. In an era where most piston manufacturing factories have been gobbled up by large multinational holding companies, we remain independent! Sadly, Moe, one of the two original founders of Ross Racing Pistons has passed, but 30+ years later, Ken Roble still continues to work full time at ROSS and oversee the day to day operations of the company. Family values are important to us and have been instilled into the daily operations of our business as well as how we view and treat our customers.
OUR PROMISE TO OUR CUSTOMERS
Our promise to each and every customers is our life long support and dedication to making a superior product, capable of handling extreme power. We truly value our relationships with each and every customer and that appreciation extends into our social media outlets and marketing efforts.
ROSS Racing Pistons are distributed through an extensive Warehouse Distributor and Dealer Network both in the United States and worldwide. We have shipped pistons to over 115 countries.  We maintain a complete selection of stocking pistons in our El Segundo, California factory and in our Ohio company owned warehouse. This ensures that Ross Racing Pistons Authorized Dealers and Warehouses, enjoy quick delivery without the additional cost of airfreight.